Vision Systems
KEYENCE offers the Industry's Most Complete Vision System Lineup. See how award-winning camera and lighting technologies address the most common vision system challenges, such as glare, low-contrast, and acceptable part-to-part variation to provide the image stability, quality and consistency required for nearly any application. The KEYENCE vision system lineup includes cameras, lensing, and lighting options with resolution up to 64MP, as well as 3D and line scan cameras for increased capability to complete any inspection process.
Vision Systems
High Performance, Icon-driven system with easy-to-use tools for simple setup by any user.
Features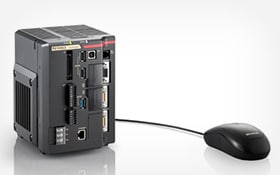 Intuitive, Icon-Driven Vision System Allows Anyone to Setup Reliable Product Inspections
The CV-X Series makes product inspections available to everyone with just a few clicks through Intuitive, interactive menus.
A Full Lineup of the Industry's Fastest Cameras Providing Solutions to the Most Challenging Inspections in Manufacturing
LumiTrax™ cameras and profile lasers for 3D inspection, and area cameras up to 64 megapixel for the highest resolution requirements can be connected to the industry's most powerful 14 core processors.
Flexible programming interface with 3D and linescan capabilities for high-quality, high-speed inspection and control.
Features
Flexibility Made Possible By the Fastest Performance in the Industry
Abundant processing power is available even with multiple camera connections, including the 64 megapixel color camera, line scan cameras, or 3D cameras.
Offers the Best Solution with Many High-Resolution Camera Options
XG-X Series offers high-speed, high-resolution cameras for high-accuracy inspection, providing powerful solutions for a variety of problems that arise in manufacturing.
High-speed cameras for inspection and defect analysis on large parts, continuous webs, and cylinders.
Other Accessories
Blue LED lights are now available. The short wave length characteristics of blue LED light make them an ideal choice for high precision dimensional measurements and other demanding applications.
Various products such as a model with high resolution, low distortion, and anti-vibration lens are available to deal with every type of inspection.