Measurement Systems
Turnkey automated optical measurement systems.
Lineup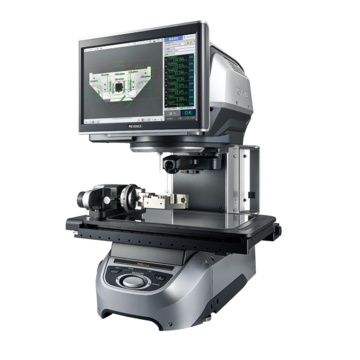 Capable of high-definition imaging, the IM-8000 Series Image Dimension Measurement System has triple the detection performance of conventional systems without sacrificing its simple operation; just place the part on the stage and press one button. With a 20-megapixel CMOS sensor and a new algorithm for stable edge detection, high-accuracy measurement on up to 300 features within seconds is now possible. A newly developed, optional automated rotary fixture allows for 360' multi-surface measurement on diverse part sizes and shapes. Achieve accurate and repeatable measurements instantly with its 'place and press' operation; this ensures consistent results regardless of operator experience. The fast, accurate, and easy-to-use interface of this product solve various measurement-related problems.
The VR-6000 optical profilometer performs non-contact measurement to replace stylus profilometers and roughness meters. This 3D profile system captures full surface data across the target with a resolution of 0.1 µm, enabling measurement of features that cannot be performed with probe-type instruments. The new rotational scanning greatly expands the measurement capabilities of the system. True-to-life cross section measurements can be performed with no blind spots. Wall thicknesses and recessed features can be measured without cutting or destroying the target. In addition, the HDR scanning algorithm provides enhanced scanning capabilities for instantly determining the optimal settings to capture high quality data, even on glossy and matte surfaces.