Image Dimension Measurement System
IM-8000 series
Image Dimension Measurement System
IM-8000 series
Instant Measurement
Simultaneous Measurements Performed in Seconds
Intuitive Interface That Anyone Can Use
Measure Small, Large, and Three-dimensional Parts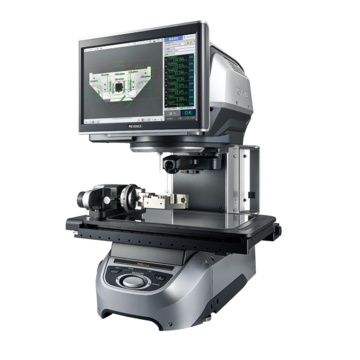 Capable of high-definition imaging, the IM-8000 Series Image Dimension Measurement System has triple the detection performance of conventional systems without sacrificing its simple operation; just place the part on the stage and press one button. With a 20-megapixel CMOS sensor and a new algorithm for stable edge detection, high-accuracy measurement on up to 300 features within seconds is now possible. A newly developed, optional automated rotary fixture allows for 360' multi-surface measurement on diverse part sizes and shapes. Achieve accurate and repeatable measurements instantly with its 'place and press' operation; this ensures consistent results regardless of operator experience. The fast, accurate, and easy-to-use interface of this product solve various measurement-related problems.
Features
Automatic Measurement on up to 300 Part Features in Seconds
Anyone can measure a part by simply placing it on the stage and pressing one button.
Regardless of operator skill, the unit provides accurate and repeatable measurements instantly.
01 | Place the part on the stage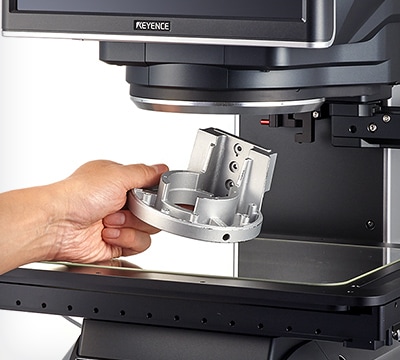 02 | Press the button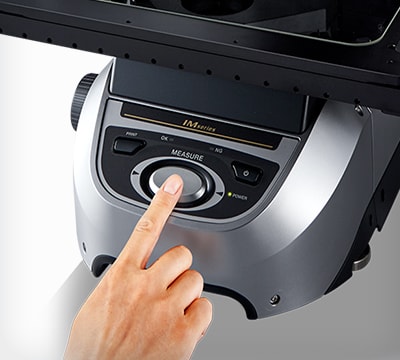 03 | Measure 300 features in seconds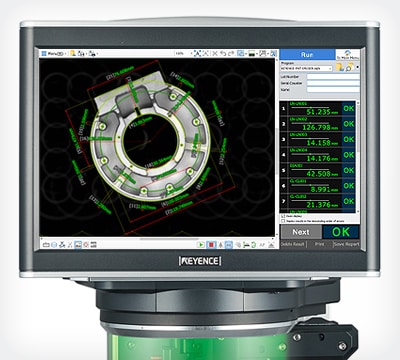 Measure Small, Large, and Three-dimensional Parts
The rotary unit coupled with advanced detection capability supports a wide range of shapes. Three-dimensional parts can be precisely measured.
360° Rotary Fixture for Multi-surface Measurement
Simply fixture the part in the chuck. The unit automatically measures multiple surfaces while rotating the object; a jig is not required and complex, multi-surface measurements are taken in seconds.