Important Notice Regarding COVID-19
Latest information on delivery and product/application inquiry support
Photoelectric Sensors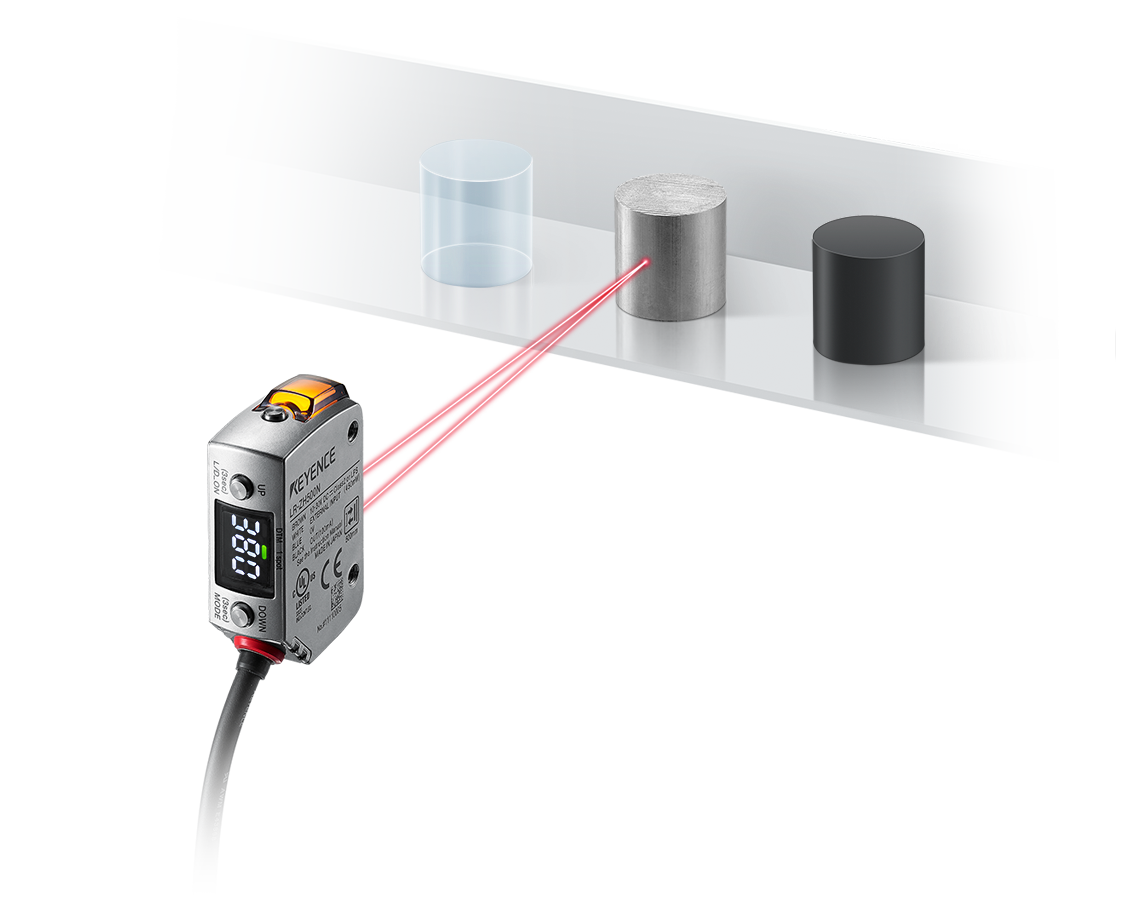 Laser sensors are used for detecting presence based on position or light intensity. Benefits include long range, a visible beam spot, and precise detection. These devices have a small footprint and have options to withstand the most demanding environments.
Self-contained Photoelectric Sensors
This Full-Spectrum sensor features unmatched detecting capabilities that allows it to complete the simplest to the most complex applications with ease.
The LR-T Series of reflective sensors represents a seamless fusion of innovative technology and robust functionality.
Laser sensor capable of detecting targets based on both position and contrast (detectable distance: up to 500mm).
Conventional miniature photoelectric sensors typically do not provide long term reliability due to weak structural design and unstable operation. In order to solve these issues, operation stability features including background suppression and automatic cross talk prevention have been combined with a heavy duty metal housing to create a better miniature photoelectric sensor.
In industrial automation, the large majority of general purpose photoelectric sensors are made of plastic. While this design is adequate for certain environments, harsher industrial environments require that these sensors be frequently replaced due to damage. By combining a metal housing with reliable detection capabilities, KEYENCE has developed a durable photoelectric sensor that will provide lasting detection in the harshest of environments.
High-power, dual LED-type photoelectric sensors for improved performance and ease of use.
Automatic calibration type. Virtually eliminates all detection and stability problems inherent with conventional photoelectric sensors.
The PZ2 series micro-optical sensors with built-in amplifiers are small, waterproof, and have the ability to detect transparent objects.
Self-contained, Long-distance, Small-spot Photoelectric Sensor with visible light
Separate Amplifier Photoelectric Sensors
High environmental resistance & cable extension capabilities provide increased installation versatility
The new PX Series heavy-duty industrial photoelectric sensors. Rugged industrial sensors designed for use in harsh environments.
Compact, More space-saving Amplifier-in-cable Photoelectric Sensor
Quick Response Sensor detecting φ0.5 mm
Separate amplifier photoelectric sensors employing a variety of sensor heads; including ultra-thin compact and chemical-resistant variations.
Separate Amplifier Photoelectric Sensor with head variation
RGB Colour Sensors
Digital, 7 light colour combinations RGB fibreoptic sensor with 16-bit accuracy. Including a new UV sensor head, lustre detection head, 2-colour digital display and unique colour element detection. Detects targets conventional sensors cannot.
Digital, RGB fibre optic sensor with 2-colour digital display and 3 sensing modes. Detects targets conventional sensors cannot.