Self-contained Miniature Photoelectric Sensor
PR-M/F series
Self-contained Miniature Photoelectric Sensor
PR-M/F series
Conventional miniature photoelectric sensors typically do not provide long term reliability due to weak structural design and unstable operation. In order to solve these issues, operation stability features including background suppression and automatic cross talk prevention have been combined with a heavy duty metal housing to create a better miniature photoelectric sensor.
Features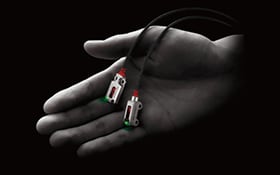 Durable and Long Life
The "hybrid structure" of the PR-M/F features an SUS316L stainless steel body that is also resin filled. The NEMA and IP rated enclosure means these units are highly resistant to oils, acids, and even alkaline detergents.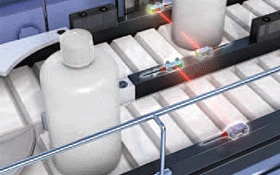 Stable Operation
The PR-M/F Series is designed with Background Suppression and Automatic Cross Talk Prevention to provide highly stable detection. External light or movement will not interfere with the sensor.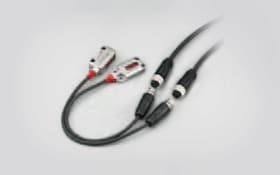 Ease of Use
Installation is made simple because mounting requires only two M3 screws. Sensitivity adjustment is not needed, as the sensor's fixed range allows for immediate use.