Positioning Sensors
These easy-to-use sensors can be used in a large variety of diverse applications such as highly accurate positioning and product type difference checking. The lineup also includes a brand-new image-based laser sensor that automatically corrects target misalignment to simultaneously detect multiple points with high accuracy.
Reflective Laser Sensors
Image-Based Laser Sensor for Accurate Height Confirmation Even With Misaligned Targets
Features
Stable Height-Based Detection, Even with Low Contrast Targets
Using a camera built into the sensor head, the IX Series recognises the locations of targets and measures the height and height differences of specified points. The ability to detect targets with low-contrast compared to the background-something that is not easy to do with conventional sensors-means stable detection is possible for a wide variety of applications.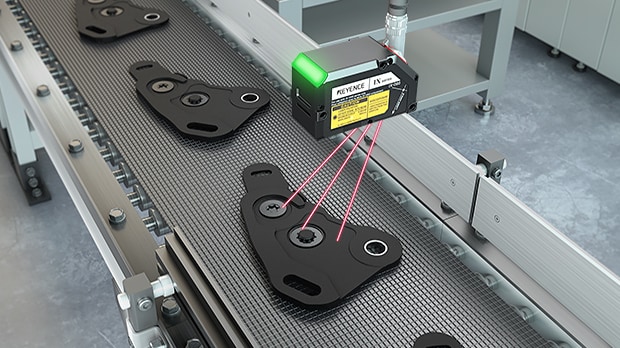 Front/back difference check with single-colour washers
Automatic Calibration for Misaligned and Tilted Targets
By combining a scanning laser with a camera, the IX Series can account for variations in a target's position and tilt during measurement. This eliminates the need for jigs or other costly mechanical fixtures.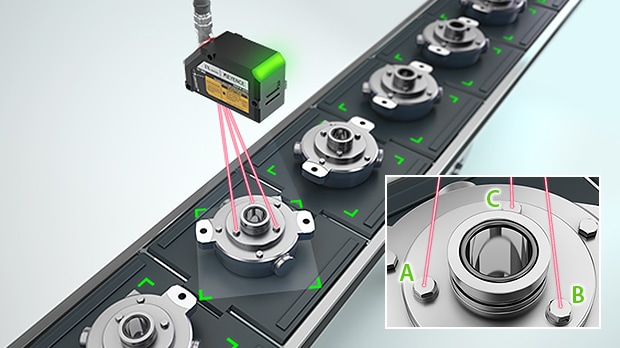 Bolt height difference checking
Introducing a new high-performance head for the IL Series Stable performance for the most demanding detection
Tough, Reliable, Repeatable Laser Measurement Simplified. KEYENCE brings you an economical analogue laser sensor.
LVDT / Contact Sensors
The Scale Shot System in the GT2 Series improves upon the technology of conventional contact sensors and is now concentrated into a pencil-type sensor head.
Features
IP67G Oil-Resistant Design for Measurement in Machine Processing and Other Oily Environments
The sensor head - including the connector and cable section - are IP67G and NEMA Type 13 compliant. This means that stable measurement is achieved even in harsh environments containing splashing water or oil. In order to improve robustness - a common problem with contact sensors - careful attention was paid to the structure of the sensor body. The design incorporates a high-strength linear ball bearing and a seamless body for additional durability. In addition, the reduced weight of the spindle means minimal wear from friction and significantly improved durability. These design improvements reduce maintenance and equipment downtime.
Choose from 29 Different Head Variations
The GT2 Series is available in a wide range of heads, including pencil, air, and low-speed pressure types. Choose a design most suitable for the application.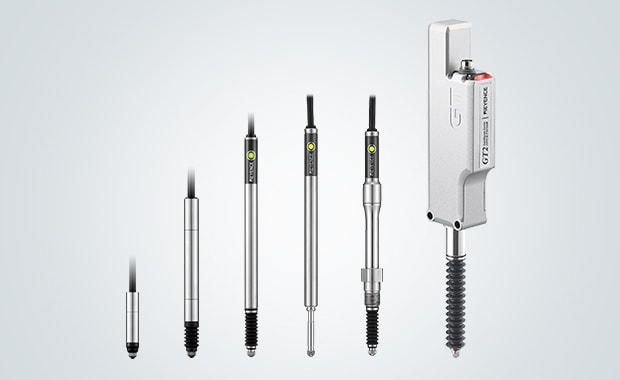 Tough and rugged general purpose digital contact sensor with push button calibration.
Thrubeam Laser Sensors
The intelligent I-Series consists of a high-accuracy sensor lineup that offers high cost-performance with the most advanced functions for on-site operations.
Features
Easy to Use
The position monitor makes it easier to align the optical axis. Easily perform optical axis alignment by adjusting the sensor head so that all of the position monitor lights turn red.
Environmental Resistance
The enclosure satisfies the IP67 rating based on the IEC standards and remains watertight even after being held at a depth of one meter for 30 minutes. The enclosure is resistant to adverse environments and offers long-term durability.
The intelligent I-Series consists of a high-accuracy sensor lineup that realises low-cost high performance with only the most advanced functions for on-site operations.
Ultrasonic / Level Sensors
Introducing the FW Series, a tough, super multi-reflective sensor unaffected by a target's material, color, or luster.