Lenses (for Machine Vision)
CA-L series
Lenses (for Machine Vision)
CA-L series
Lenses
(for Machine Vision)
Vision system peripheral equipment
CONTACT YOUR NEAREST OFFICE FOR RELEASE STATUS
Various products such as a model with high resolution, low distortion, and anti-vibration lens are available to deal with every type of inspection.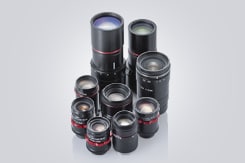 Wide Lineup of Lenses to Fit Different Applications
The kind of total solution that can only be offered by a manufacturer of image processing technology.
This varied lineup has lenses that offer features from ultra-high-resolution to vibration-resistance, so our customers can find the right lens to meet their needs.