Traceability Solutions for the Automotive (Code Reading)
KEYENCE 2D Code Reader Advantages
Accurate Reading!
Best-in-class Reading Performance
A newly developed algorithm provides best-in-class reading performance. Difficult codes can also be scanned stably, including those marked directly on uneven workpieces.

Store Reading Conditions for Multiple Types of Products
The Parameter Bank Function holds multiple reading settings. This feature achieves hands-off and worry-free reading by allowing the reader to automatically perform reading with optimal settings with no manual reconfiguration required between multiple product types!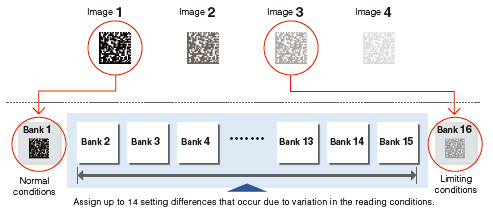 Advanced Contrast Algorithms
Conventionally, black/white thresholds are set for the entire code, which makes it difficult to detect unevenly printed codes. To solve this problem, we have developed a new Contrast Algorithm for Local Concentration, to allow thresholds to be set for each section of a code. This algorithm enables highly accurate black/white classification even for DPM codes, on which uneven print density often occurs.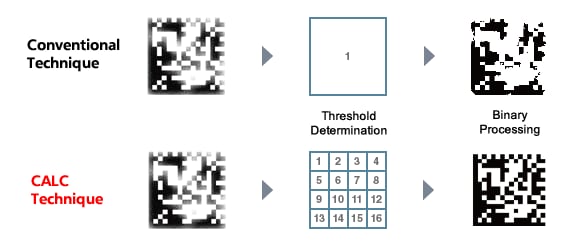 Our local concentration black/white classification algorithm divides a code into smaller pieces to perform binary processing using thresholds specified for each section. This enables accurate black/white classification without being affected by uneven print density.
* The above illustration is only for reference and does not mean that a code is always divided into 16 parts.