Safety Light Curtain
GL-R series
Safety Light Curtain
GL-R series
Durable Housing Built to Last
Innovative Options that Minimize Wiring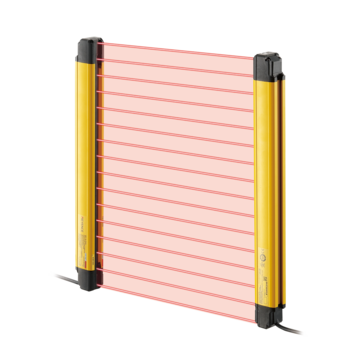 What makes a light curtain "robust"? KEYENCE has designed a light curtain with a structure that prevents damage from parts or tools by narrowing the exposed lens area and recessing it in an impact resistant housing.
Ensure Light Curtain Alignment
3 simple ways to ensure alignment.
Battery-Powered alignment tool
Built-In alignment indicators
Advanced alignment method
Features
STRONG - Rugged Exterior Increases Life & Decreases Downtime
The rugged metal housing and recessed lens make the GL-R resistant to twisting, vibration, and even direct impact. Additionally, its high power (49'+ of range) and increased enclosure ratings (IP65/IP67) allow the GL-R to withstand the most demanding environments.
SMART - Intelligence You Can See
Full length status indicators, integrated functionality and built-in series connection are a few of the attributes that make the GL-R Series the intelligent choice.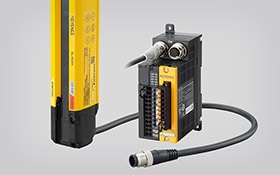 SIMPLE - Less Wiring, Less Hardware, Less Work
A built-in controller, unique wiring options, and optional safety relay with quick connect cables greatly contribute to the simplicity of the GL-R Series. Setup is further simplified with quick fit brackets and tools that ensure alignment.