Digital Infrared Temperature Sensor
FT series
Digital Infrared Temperature Sensor
FT series
Non-Contact Infrared Temperature Sensor
Temperature data is an important item in various processes. This IR sensor can measure this data easily and without touching the target. The built-in laser pointer allow for quick and easy setup.
IR temperature sensor with DRO
Built-in laser pointer
Easy target-specific emissivity configurations
High-speed response
New high-temperature and ultra long-range models have been added to the lineup of FT Series Digital Infrared Temperature Sensors
Features
Obvious Detection Range with Visible Laser Pointers
The FT Series is equipped with two laser pointers* that clearly indicate the detection range, simplifying installation.
*Class: FDA Class 1, JIS Class 1, IEC Class 1
Varied Lineup with Detection at Distances of up to 3000mm
Depending on the application, an increased distance between the target and the sensor may be necessary.
With several sensor head options available - from small beam spot to long range—the FT Series can be used in a wide variety of installation environments.
Usable In Harsh Conditions with a Resistant Air Purge Box
Made of zinc die-casting, this robust box offers air purge functionality to meet elevated environmental resistance requirements such as in areas prone to steam, smoke, dust, oil mist, or high temperatures.
Easily Configure Emissivity to Account For Specific Targets
Configuring emissivity for a specific target material is simple, with only two steps required. Emissivity can be calculated and set automatically just by entering the measured temperature of a target. If the emissivity is known, it can be entered directly.
Enter the value (emissivity or surface temperature)
Press [SET] (to set or configure automatically)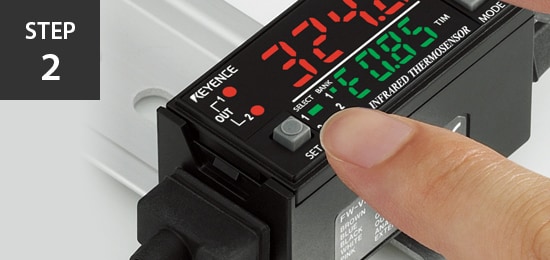 Emissivity not known
Known emissivity