Digital Microscope
VHX-7000 series
Digital Microscope
VHX-7000 series
The World's First 4K Ultra-High Accuracy Microscope
View, capture and measure with an all-in-one system
Delivering Images that rival a SEM
Highest definition in the history of microscopes
Even novice users can capture optimal images
4K High Accuracy digital microscope capable of capturing high resolution images and measurement data for inspection and failure analysis, at the push of a button.
Features
View, Capture and Measure with an All-in-One System
VIEW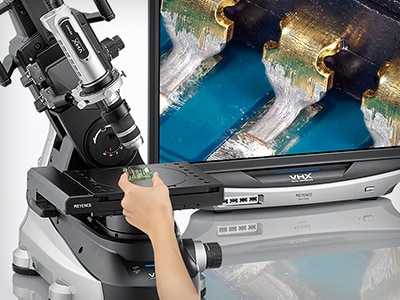 Observation with an optimal balance of brightness and clarity
The VHX Series has a depth of field that is 20 times greater than conventional optical microscopes.
KEYENCE designs the lenses, cameras and graphic engine in-house, enabling observation with an optimal balance of depth and brightness. Even novice users can capture high resolution images with ease.
CAPTURE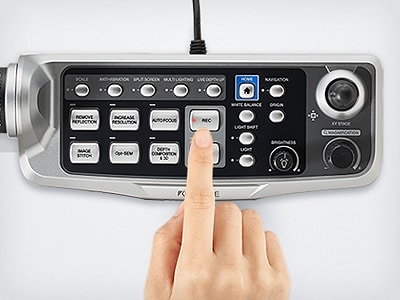 Images can be saved and shared easily
With a 1 TB hard drive, images are easily saved locally.
Images can be shared over LAN or a USB drive.
Reports can be automatically created and shared.
MEASURE
Perform a wide variety of measurements with just one device
Easily perform 2D and 3D measurements. Roughness, contamination, grain size, and other measurements can be analyzed with one tool.
Delivering Images that rival a SEM
Optical Shadow Effect Mode
Using a specialized design featuring a 4K CMOS image sensor and illumination, KEYENCE has achieved a whole new observation mode.
Highest Definition in the History of Digital Microscopes
4K Fully-Integrated Head
Thanks to a 4K CMOS image sensor and a newly developed optical system, the VHX-7000 combines a large depth of field with high resolution.
A wide range of observation modes—including Brightfield, Darkfield, Polarized Light, Differential Interference Contrast (DIC) and more—are covered, enabling automatic handling of all sorts of targets.
Full-Control System Enables Even Novice Users to Capture Optimal Images
Advanced Operability
The user simply places the target on the stage, and everything else – including alignment, focus adjustment, magnification switching and so on – is fully automatic.
Even first-time users can perform observation perfectly on the desired area, with no stress at all.
Applications: Observation