Common Datums and Datum Systems
A common datum means a pair of single datums specified to function as one datum. On the other hand, a datum system is a group of datums that is created by combining multiple datums.
Common Datums
A common datum is a single datum consisting of two datum features. Separate datum features are applied to a common practical datum feature.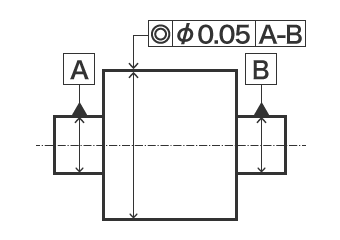 For example, indication using a common axis line made by fixing the two smallest circumscribed cylinders—which are coaxial—is described by connecting the two letters of the datums within one frame. This makes a straight line from the axes of datums A and B.
Datum Systems
A datum system is a group of datums created by combining more than one individual datum in order to use it as a reference for toleranced features.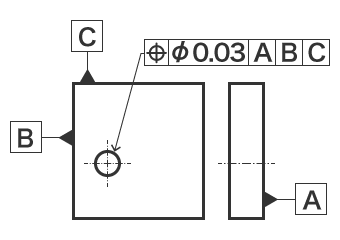 For example, three datums are used to completely capture the orientation of a part. A datum system comprising three datum planes that are perpendicular to each other is called a three-plane datum system. This enables the optimal surface to be used as a datum.