Film / Sheet
KEYENCE sensors offer solutions for a variety of process improvement and quality control challenges in the film and sheet industries. Whether the film/sheet is transparent, opaque, thick, or thin, the solutions below can help your process run more efficiently.
View Catalogue
Measure width and meandering with a single setup. Placing an optical micrometre on each end of the web provides a great low maintenance solution thanks to their high speed and accuracy.
High-speed optical micrometer
LS-9000 series

By monitoring the gap between coating rollers at one or both ends, it's possible to maintain tight control over sheet thickness. The LS-9000 Series can measure gaps as small as 10μm, so this solution works for even extremely thin films.
High-speed optical micrometer
LS-9000 series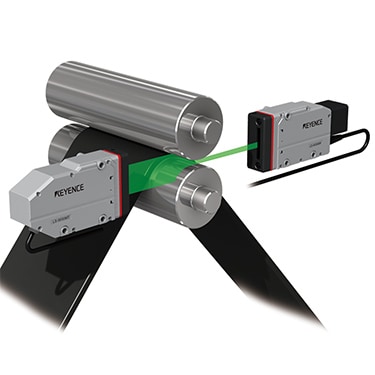 Using non-contact sensors makes it simple to get 100% inspection for sheet thickness. The CL-3000 can measure thickness of any material, regardless of colour or surface finish, without having to adjust the settings.
Confocal Displacement Sensor
CL-3000 series

By profiling the entire surface of a film, it's possible to reliably detect wrinkles. Laser profilers provide a great alternative to cameras here because you can rely on height changes in addition to contrast changes to pick up on defects.
High-speed 2D/3D Laser Profiler
LJ-V7000 series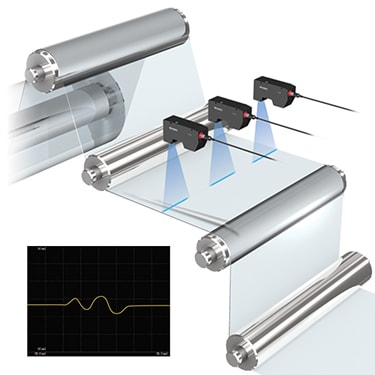 2D Laser Profilers can inspect the end profile of a roll as the sheet is wound to prevent telescoping/dishing. With in-process inspection, issues like wrinkles and meandering during unwinding can be avoided, leading to overall improved efficiency.
High-speed 2D/3D Laser Profiler
LJ-V7000 series

Measure the width and thickness of rubber sheets with a single system. By using a laser profiler on each edge of the sheet, you can monitor the height difference between the roll and the material to get thickness and edge profile, in addition to sheet width.
High-speed 2D/3D Laser Profiler
LJ-V7000 series