This page introduces laser processing and provides examples of related applications.
---
Laser Processing Overview
Laser processing applies a high-energy laser beam onto a target that melts or vaporizes the material using thermal energy. The temperature of the target surface rises rapidly to its boiling or melting point as the material changes from a solid state to a liquid or gas.
---
Laser Processing Examples
Laser processing is divided into three broad categories: removal, bonding, and modifi cation.
In most applications, testing needs to be conducted to select the best combination of power, scan speed, and Q-switch to produce the desired result.
Removal
Surface layer removal
Cutting
Boring
Etching
Trimming
Ablation
Bonding
Welding
Brazing / soldering
Modifi cation
Hardening
Annealing
Engraving
Glazing
Laser deposition
---
Advantages of KEYENCE's laser markers
Advantages of KEYENCE's laser markers compared with cutting process
Target objects will not crack or deform KEYENCE's laser markers provide noncontact cutting that won't damage target objects. Product quality can be stabilized by eliminating deformation or cracks caused by contact cutters.
Maintenance-free There is no need to regularly oil or clean a cutting blade.
Homogeneous processing Laser marker's noncontact cutting eliminates surface irregularity.
No XY stage and lower initial costs KEYENCE's laser markers need no linear stages to align target objects for cutting. A variety of shapes can be manipulated using the laser beam scanning mirrors.
Graphic data can be loaded and edited You can load graphic data with dedicated software and arrange it based on the shape of the target object. It significantly reduces time required for setup or editing.
---
Laser Processing Applications
Application examples of boring, cutting, etching, and surface layer removal are shown below.
1. Boring
2. Cutting
3. Etching
By precisely adjusting the laser beam power and the scan speed, it is possible to simultaneously create the barcode pattern and to cut the label from the backing. This eliminates the need to add a cutting process to the application and also the costs involved with maintaining additional equipment.
4. Surface layer removal
By peeling away the coated surface layer, the base material or subsequent coatings are exposed. This processing technology is often used for illuminated switch covers in automobiles.
5. Plating removal
By vaporizing the plating, the base metal underneath is exposed.
In this example, the anodized layer is removed, therefore exposing the base metal and creating an area that can be used to ground internal circuits in the device.
Removing the ITO fi lm layer on glass
The conductive layer of ITO fi lm is removed to create circuit patterns.
The MD-V9920 wide area laser marker signifi cantly reduces production steps while improving processing accuracy.
[Peeling Off the Gold Plating from Connector Terminals]
A laser is used to peel off the gold plating from the terminals. The goal is to reduce the absorption of solder.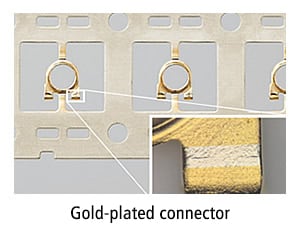 6. Cutting the Coating of a Cable
The laser light is scanned to melt and cut the target.